International
Our science
Biocodex develops, manufactures and distributes world-class pharmaceutical products and health solutions for patients in more than 100 countries. Focusing on three main pillars (microbiota mission, orphan drugs and women's health), we combine in house R&D and scientific partnerships, production expertise, and investments in start-ups to remain at the forefront of innovation and quality. 
Biocodex research and development
Biocodex has its own research and development center. Since 1989 it is located in Compiègne (Oise, France). Over 50 highly qualified scientists, with in-depth knowledge of Biocodex products, work on research projects.
Biocodex R&D expertise
Biocodex has managed a research and development center in Compiègne, near Paris. There, more than 50 highly qualified scientists with in-depth knowledge of our products conduct research involving chemistry, pharmacology, microbiology or clinical trials.
Our R&D center focuses on three priorities
Further developing the Biocodex product range.
Searching for new indications.
Innovating with new pharmaceutical forms.
Our main areas of research are
Gastroenterology.
Probiotics and their different fields of application.
The central nervous system.
Our researchers' combined expertise enables Biocodex to create methods of synthesis that respect the environment, guarantee the pharmaceutical quality of our active ingredients, explore mechanisms of drug action, medical devices and dietary supplements, and evaluate their efficacy and tolerance.
The R&D team focuses all its energy on improving patient well-being and helping build the future of Biocodex.
Biocodex R&D achievements
Discovered and developed by the Biocodex R&D unit, Diacomit® is an orphan drug indicated for the treatment of a rare and very severe type of epilepsy. This drug has received marketing authorizations in Europe, Japan, Canada, the United States, Argentina, Australia and Switzerland.
Biocodex manufacturing facilities
Biocodex operates three manufacturing facilities in France and Morocco in compliance with the highest standards to guarantee product quality and safety.
Biocodex's state-of-the-art manufacturing and logistics center in Beauvais, France
Biocodex has operated a 9-hectare manufacturing and logistics center in Beauvais, near Paris, since 1968.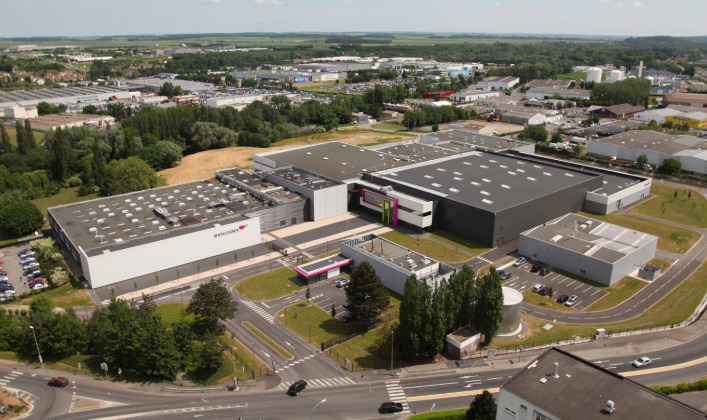 Initially focused on manufacturing Biocodex's Saccharomyces boulardii CNCM I-745® probiotic yeast, the plant has been progressively upgraded to meet growing demand as the company has expanded. Since 2005, Biocodex has accelerated this process, investing in state-of-the-art equipment and technologies. In 2017, Biocodex reached an important milestone with the installation of one of the pharmaceutical industry's largest lyophilization platforms worldwide, for Saccharomyces boulardii CNCM I-745®. This extension was a real technical feat as it was held without interrupting a single day production.
This platform houses around
30 pieces of equipment,
including two 15,000-liter bioreactors,
1 centrifugal separator and
2 55 m² freeze dryers
Biocodex's Good Manufacturing Practices Certifications
The Beauvais factory controls the entire drug production process from manufacturing to shipping. Depending on the product, our facility may produce the active pharmaceutical ingredient and/or package the final product. In all cases, Beauvais is at the heart of our quality system, complying with Good Manufacturing Practices (GMP) as certified by France's National Agency for the Safety of Medicines and Health Products (ANSM), the United States Food and Drug Administration (USFDA) and other national authorities worldwide.
Beauvais Key figures
More than 200 employees
6,000 m2 logistics hub
90 million boxes shipped every year
96% on-time delivery
Shipping to more than 120 countries
Biocodex plant in Casablanca, Morocco
Biocodex has operated a 1-hectare plant in Nouaceur, near Casablanca, since 2012. This facility focuses on manufacturing Biocodex products in liquid form.
The Casablanca factory controls the entire drug production process from manufacturing to distribution and quality control, complying with Moroccan and European Good Manufacturing Practices (GMP).
Our Casablanca plant can produce up to
40 million vials per year through
2 production lines operated
by a team of 50 highly qualified operators
Ferlux plant, France
Acquired by Biocodex in 2014, Ferlux operates a 2-hectare plant near Clermont-Ferrand in the South of France. As a pioneer in the science of polyphenols and the producer of the only bilberry extract with active pharmaceutical ingredient status, Ferlux is passionate about the diversity of colorful flavonoids and their extraordinary health benefits.
Using biotechnologies and soft extraction/purification processes, Ferlux produces premium-quality bioflavonoid-rich dry extracts from carefully selected superfruits.
Biocodex investing in start-ups
Biocodex has invested in start-ups since 2016 and become a key player in the French biotech ecosystem. We focus mainly on companies developing innovative therapeutics with probiotics or microbial strains that are beneficial to health. With its long-term approach and industrial expertise, Biocodex is recognized as a valuable partner by CEOs, project owners and traditional investors, such as fund managers. Biocodex is always looking to support new meaningful projects.
Biocodex invests in MAAT PHARMA
Biocodex has acquired a stake in MaaT Pharma in 2016. MaaT Pharma's research exploits the potential of fecal microbiota transplantation (FMT) as a therapeutic option, accelerating innovation in microbiota therapy. Biocodex brings 60 years of industrial expertise in the strain cultures, lyophilization and oral treatment, while MaaT Pharma's pipeline is focused on the use of FMT as therapeutics on the Graft-versus-host disease (GvHD) and acute myeloid leukemia (AML) patients. MaaT Pharma has also developed Maat Microbiome Restoration Biotherapeutics (MMRB) technology focusing on data collection and analysis (the GutPrint® platform), along with a current good manufacturing practice (cGMP) facility. 
Biocodex invests in Exeliom Biosciences
Biocodex has invested in Exeliom Biosciences since 2018. This company's mission is to develop a new class of medicines, Live Biotherapeutics, based on the growing understanding of the central role of the microbiota in the immune system.  Exeliom Biosciences has developed a mono-strain approach using Faecalibacterium prausnitzii, which it believes could significantly improve the treatment of inflammatory bowel disease, such as Crohn's disease or ulcerative colitis.  
Biocodex invests in TargEDys
In 2019, Biocodex acquired a stake in TargEDys, a start-up aiming to act on metabolism balance. Among the company's innovations, Probiosatys™ with a unique strain Hafnia alvei 4597. This technology is available to consumers through Biocodex's  Symbiosys® Satylia® product. 
Biocodex invests in Kinnov Therapeutics
Biocodex has invested in Kinnov Therapeutics since 2018. Focused on developing new addiction strategies, Kinnov Therapeutics concentrates its research on the combination of cyproheptadine and prazosin, two molecules that work in synergy to treat addictions.  
Kinnov Therapeutics is conducting a Phase II clinical trial to confirm the efficacy of combined cyproheptadine and prazosin in the treatment of alcohol addiction, a field lacking in medical solutions. This project has received funding from the European Union's Horizon 2020 Research and Innovation program.